We promote

accountability and transparency
of

political actors
South Political Promises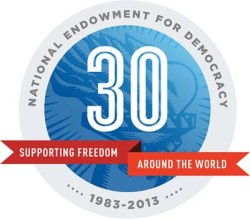 Project "South Political Promises" was conducted from February to August 2013, with the support of the National Endowment for Democracy (NED). The main objective of the project was a strengthening of democratic values and political processes, by promoting accountability and transparency of political actors from the South region of Serbia, to the citizens of this region and ensuring political-civil dialogue.
The main tool for the project realization was the emission "15 minutes", with unique visual identity, animated introductory scenes and sounds.  The complete design portfolio was developed for the emission, including background scene, banners for online promotions and billboards. The emission has been produced in a professional video production studio, equipped in cooperation between NED and JV.
For broadcast was created a new section on the JV web site, with opportunities for visitors to vote for future guests of the emission, to put (and vote for) questions for future guests, and to propose a new interlocutor for the emission. These tools ensure that any citizen from the South Serbia can raise issues to the attention of politicians and will receive all support in getting answers to their questions from MPs, local politicians and authorities elected by them.
During project tenure, JV produced and broadcasted 68 talk shows "15 minutes", with local political actors from the South Serbia. After the project, the JV will continue with "15 minutes", although the frequency of emissions will be reduced to 1-2 per week.
In addition, on the JV web site, 68 journalistic stories were published. The stories highlighted the tatopics of specific emission, connecting the video talk show with the issues of transparency and accountability, political corruption and malversations.
The "15 minutes" was online promoted, by advertising on Facebook, Google AdWords/Search and banners on other web sites. Online promotion was followed by an offline action, conducted with civil sector, aimed to direct contact with citizens. Thus, the response was excellent.
The main achievement of the project was increased transparency and accountability of political parties and actors, governmental and local authorities. Through the project realization, JV created capacities for public monitoring of political and governmental activities. Such activities enabled citizens to have direct communication and interaction with parliamentarians and authorities. Thus, citizens were able to demand their reporting on fulfilling their pre-election promises and plans.  This was a vice verse process, and MPs and politicians have better understood own responsibility to citizens and have become more open for the dialogue. The other important aspect of the project progress is already achieved results in bringing the issues of the local importance for the South of Serbia to the national level.